SHORT TERM FORECAST
TODAY:
Foggy, hot and humid with an afternoon thunderstorm in places. High: 94
TONIGHT:
An irregular thunderstorm; rather cloudy and heavy. Low: 70
TOMORROW:
Rather cloudy, less hot, but still humid with a few showers and thunderstorms. Top: 86 Bottom: 68
FORECAST SUMMARY
Well, it's another foggy, hot and humid day with highs in the mid 90s again on Tuesday. Heat index values ​​will also hit triple digits, so remember to take the proper heat precautions to stay safe!
Also, with the classic summer pattern continuing, expect a few scattered thunderstorms on Tuesday afternoon and evening, but mostly dry with no storms.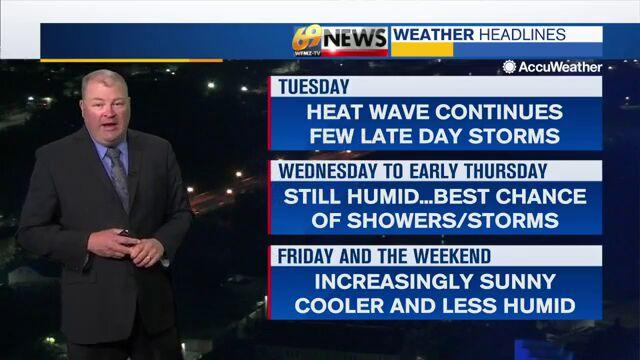 A slow-moving cold front will move south through the region Wednesday through Thursday, breaking the 90-degree heat chain but triggering a better chance of a few storms on Wednesday.
After the front, enjoy drier, warmer, sunnier weather coming later in the week with Friday and next weekend with warm seasonal sunshine and more comfortable highs in the 80s with lower humidity levels as well.
DETAILED FORECASTS
TUESDAY
Expect a mix of clouds and hazy sunshine, with a late afternoon storm speckled in the afternoon or evening as a cold front slowly approaches from the north and west. Most of the time is dry, with the heat and humidity outside the risk of a refreshing shower or thunderstorms.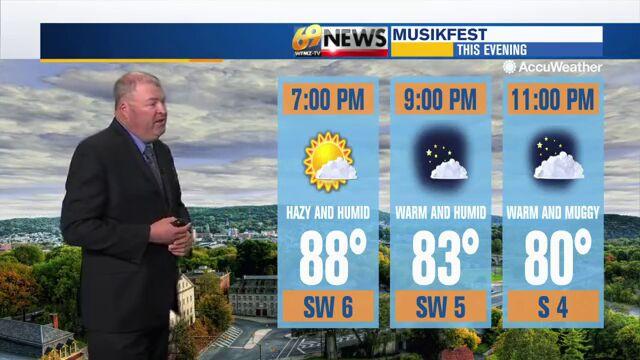 The heat wave will also continue with high temperatures reaching the mid-90s and heat index values ​​in the triple digits.
A heat advisory will be in place for much of the region until Tuesday evening. Be careful!
WEDNESDAY TO THURSDAY
Our next cold front is moving down from the north. This one should have more success crossing our region, unlike its predecessors which all stalled nearby. This bodes well for those who want some more comfortable air later in the week.
Any heat wave should kick in on Wednesday as more clouds and our highest chance of rain will keep temperatures in the 80s from the 90s, but still quite sticky on Wednesday.
While not a washout, it's our best chance for scattered showers and thunderstorms as our front slowly meanders south through Pennsylvania and New Jersey Wednesday through Thursday. .
Clouds and showers may persist Thursday with a slow drop in humidity in the late afternoon and evening.
FROM FRIDAY TO WEEKEND
We'll need to watch for an upper level low on Friday, which could pop a few showers if it's deep enough and strong enough.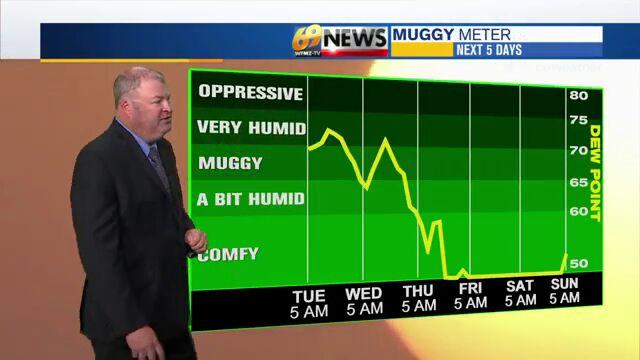 Anyway, the big story later this week is much cooler and more comfortable air coming Friday into the weekend, with highs in the 80s, with upper 70s not out of the question either with a deeper hollow.
Expect partly sunny skies on Friday followed by a mostly sunny, dry and pleasant weekend.