(WLFI) – Good Wednesday morning! We'll be tracking some scattered rain waves with integrated lightning/thunder this morning.
Temperatures range between the lower 60s and upper 50s. Not as cold as previous mornings thanks to passing warm front, increased cloud cover and SE winds.
Today's highs will depend on how much sun we might get. More sun will increase the highs significantly until the mid 80s. But current thinking predicts increased clouds, the highs will only reach the upper 70s and lower 80s.
We will see a small break in the rain with mostly to partly cloudy skies later this morning and early afternoon. Then, more scattered rains and thunderstorms will be possible.
Starting this morning, mostly cloudy conditions will be likely for much of the day. This will help reduce a more serious storm threat. A few strong storms could be possible this afternoon. But any breakthrough in the clouds could certainly heighten this threat.
As always, keep an eye out for the weather in these scenarios as a severe to severe storm could still be possible at times today and Thursday.
Thusday
As the low slowly progresses northeastward into the WLFI viewing area, much of the same weather will be expected tomorrow. Scattered and isolated chances of rain/storm will be likely as we will still be in the warm sector of the low.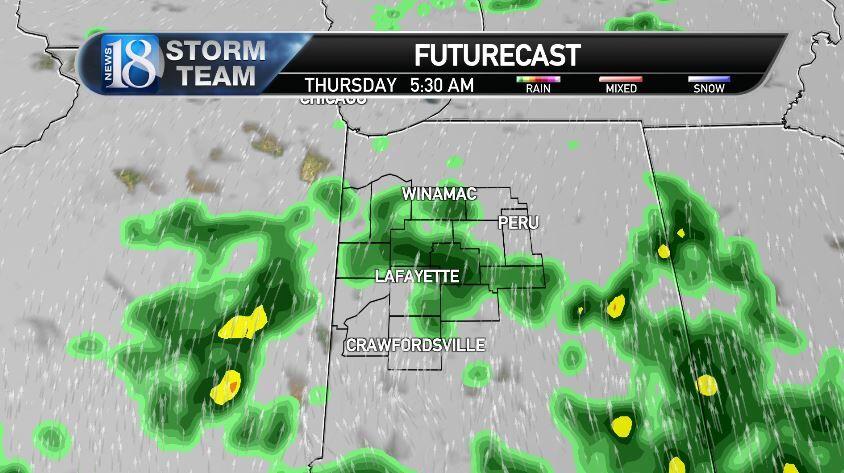 With increasing clouds and chance of rain, highs will not reach until the mid 70s.
Some of these storms could reach severe levels, but widespread severe weather events are low. Individual storms may have the potential to reach severe limits.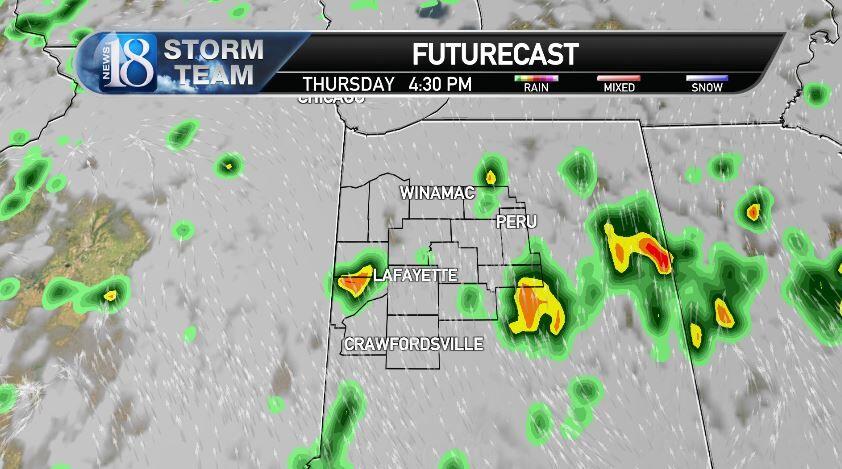 Friday
As the low rotates through the viewing area, we will continue to see isolated and scattered chances of rain. Today's highs will only be in the upper 60s since we will be further back and cooler from the bottom.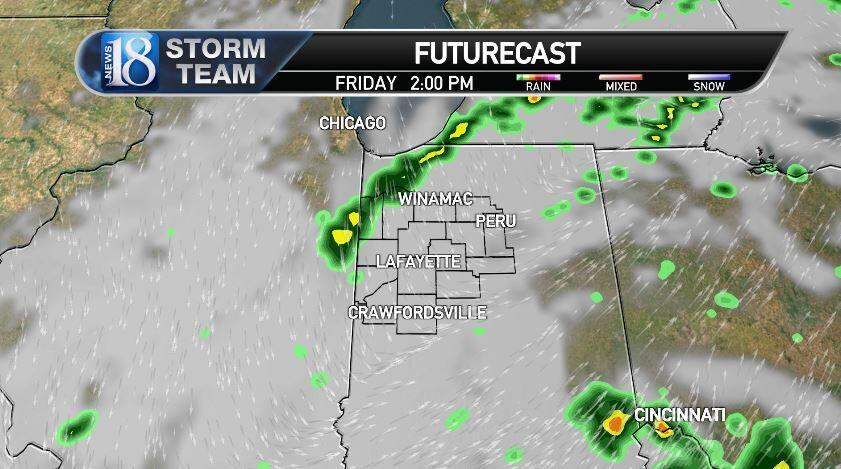 Also, with the depression just above our area, it will create rotation in the atmosphere. Some cold air funnels may be possible. These rarely make their way to the ground, but we will continue to watch for the chance of scattered rain.
By late Friday afternoon and evening, the low will eventually exit eastward. We will start to clear by then and give way to calmer weather before the weekend.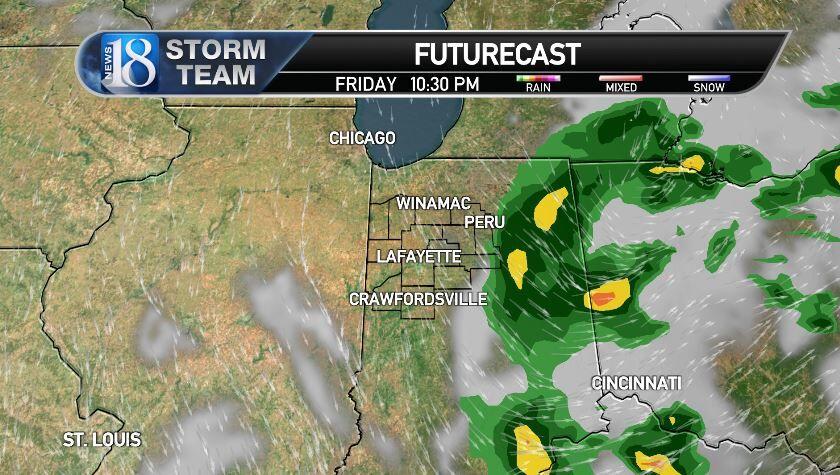 Here's a look at the current model data running through the entire low pressure system working in the WLFI viewing area from Wednesday morning through Friday. Note that we will have dry weather with scattered rain and sometimes thunderstorms until Friday morning/afternoon.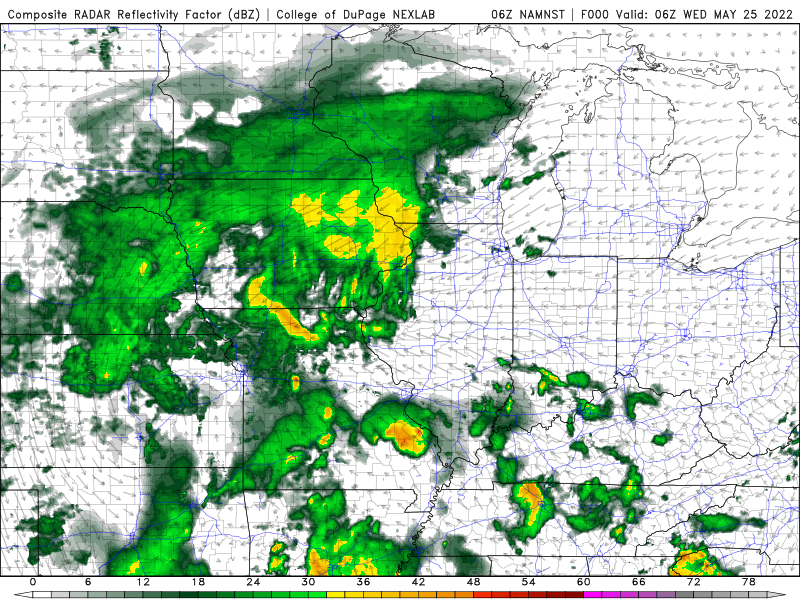 Severe weather forecast for Wednesday and Thursday
The storm forecast center has the entire WLFI viewing area for Wednesday and Thursday under marginal risk (Level 1) for severe weather.
The definition of a marginal risk (level 1) of the RCP states:Isolated severe thunderstorms possible. Limited in duration and/or coverage and/or intensity. An area of ​​severe storms either of limited organization and longevity, or of very low coverage and marginal intensity.
That being said, a few isolated to scattered storms may reach severe limits, but overall coverage will be weak. Stay up to date with the weather and always stay up to date with the latest weather forecast. The best way to stay safe is to keep an eye on the radar. You can do this on our live interactive radar or click here.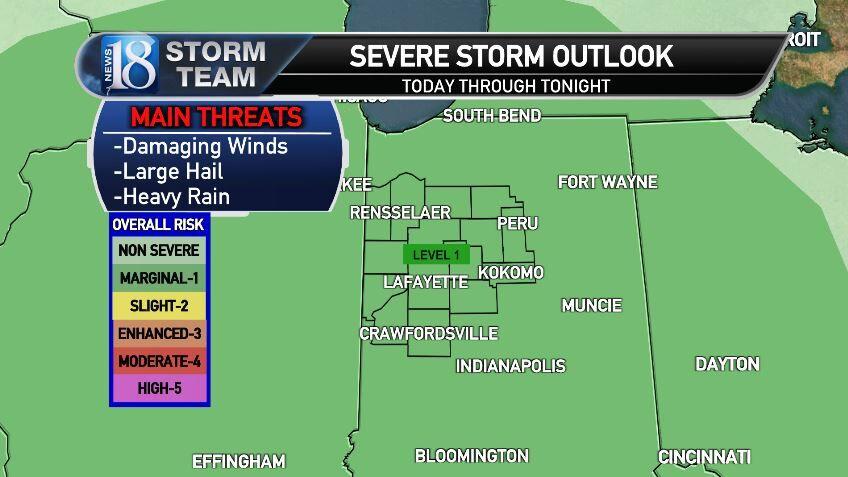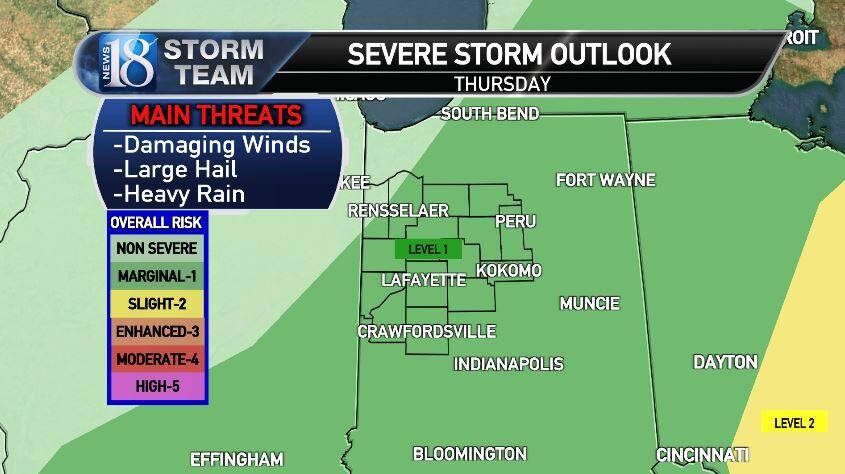 Rainfall through Friday evening
Since we won't see excessive precipitation over the next 3 days, precipitation totals will be spotty, especially during stronger storms. At the area scale, 0.75″ to 1″ looks decent. Locally, under heavier thunderstorms, areas could see 1 to 2 inches of rain.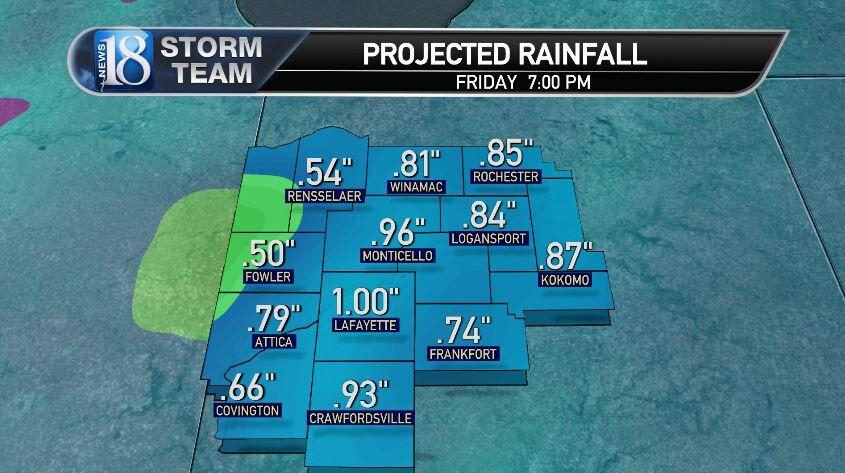 Memorial Day weekend and 7-day outlook
The pattern after Friday and through the 7 day period looks fairly calm with warming conditions and sunny skies. The next best chance of rain appears to be possibly late next week.